Joint meeting of the European Millennium Project Nodes Initiative (EuMPI) with the European Regional Foresight College (ERFC) November 21-22, 2013 Warsaw, Poland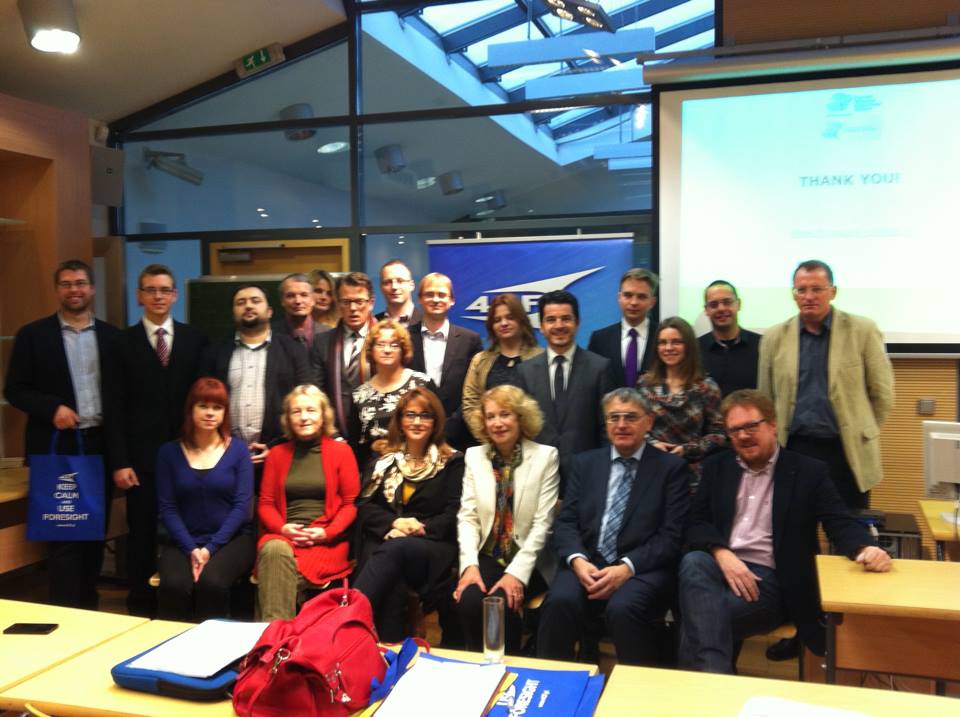 The Joint Meeting of European Millennium Project NodesInitiative (EuMPI) with the European Regional Foresight College (ERFC)
November 21-22, 2013 Warsaw, Poland
The European MillenniumProject Nodes Initiative (EuMPI) with the European Regional Foresight College(ERFC) held meeting on November 21-22,2013 in Warsaw, Poland. The main focus of the meeting was foresight on Eastern Europe and the EU2020 strategy, and launching of the "Regional Foresight 2.0 project.
The Joint Meeting ofEuropean Millennium Project Nodes Initiative (EuMPI) with the European RegionalForesight College (ERFC) was hosted by foresight company 4CF, which leads the The Millennium Project Node in Poland.
The ERFC presented a new program, called 'Foresight2.0', aiming to initiate a new generation of foresight: http://www.foresight-college.eu/spip.php?article83
This meeting in Warsaw assembled futurists frompublic and private research centers, companies and universities fromAzerbaijan, Belgium (Wallonia), Czech Republic, Finland, France, Germany, theNetherlands, Poland, Slovenia, and Spain. The members of the Management Board,Ibon Zugasti, President of the European Regional Foresight College, Hélène vonReibnitz, Vice-president, and Michaël Van Cutsem, Secretary, presented the ERFCactivities.
The meeting coveredworkshop which included presentations about the EU 2020 and a roundtable onaddressing climate change with foresight activities, and with contributionsfrom leading European foresight experts.
Chairperson ofAzerbaijan Future Studies Society and MP Node Reyhan Huseynova presentedAzerbaijan at that meeting. Ms.Huseynova mentioned the contribution of foresight to the EU2020 Strategy targets.
At the end, theparticipants agreed the future actions for the next meeting of theERFC-EUMPI, planned for the 2nd quarterof 2014, in Brussels.